Ready for a course that's career-changing?
Perhaps you want to sharpen your skills to stay competitive in your job field. Or maybe you're looking to gain new skills to make a career switch. MCC Corporate College provides education and training for individuals looking to do either.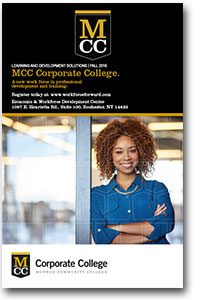 Throughout the year, MCC Corporate College offers both self-paid and employer-paid options for professional development.
To view the full Fall 2016 course offerings and descriptions, please click on the catalog image, or course categories below.
Questions?
Just fill out the form below and our MCC Corporate College team will reply and assist you!