SHRM-CP and SHRM-SCP Certification Preparation Workshop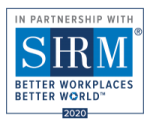 SHRM-CP and SHRM-SCP exam preparation workshop offers each participant a structured, supportive, and interactive environment that enhances learning, encourages discussion, and fosters interaction with other HR professionals. HR certification shows a deep understanding of your profession's guiding principles – the HR Body of Knowledge – and demonstrates your serious commitment to continuing education
and high standards that professional certification represents.
To view the Fall 2020 SHRM-CP and SCP Workshop Schedule please click here.
Date(s)
9/17/2020 - 12/17/2020
Time
6:00 PM - 9:00 PM
Session(s)
13 - Thursday
Instructor
Fernan Cepero
Class may be conducted remotely, via Zoom, pending classroom delivery resumption.