THE PATHWAY TO SUCCESS BEGINS HERE.
MCC Corporate College offers many options for incumbent worker and individual worker success and sustainability in the age of the life-long learner. Our programs incorporate credit-based options among our extensive non-credit, certificate, and apprentice offerings.
Contact Me
i'm an employer
Talk to a program professional at MCC Corporate College about how we can deliver credit and certificate programs directly to your staff, onsite at your place of business or at a location of your choice. Complete this online form, and we'll be in touch.
i'm an individual
MCC is a one-stop resource for new and returning college learners. Contact an admissions professional and begin your journey to completion of a college degree or certificate program. Complete this online form, and we'll be in touch.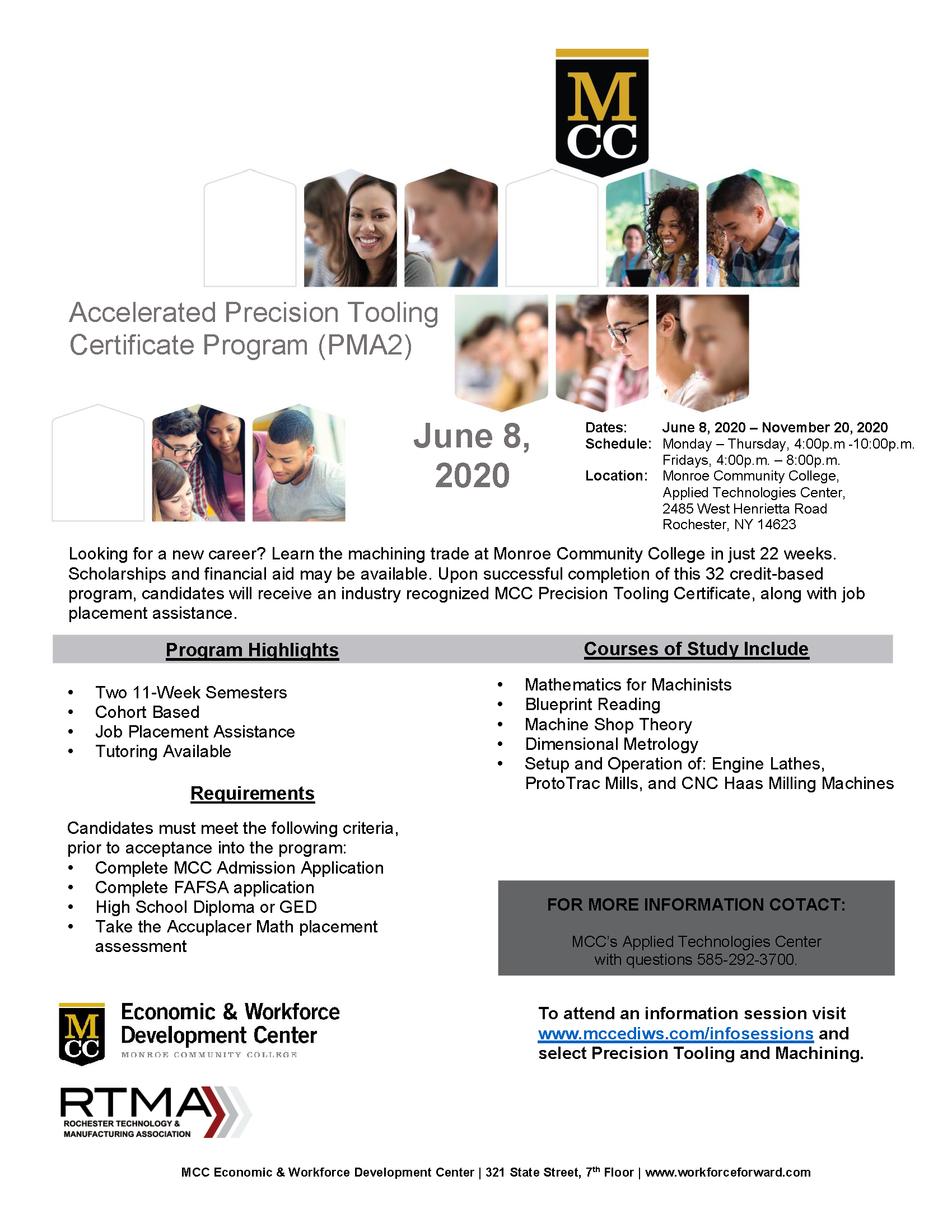 Looking for a new career? Learn the machining trade at Monroe Community College in 22 weeks.
The next cohort runs July – December, 2021.
For upcoming Information Sessions click here.
To download the program flyer, click here.
Contact John Troy with questions jtroy@monroecc.edu.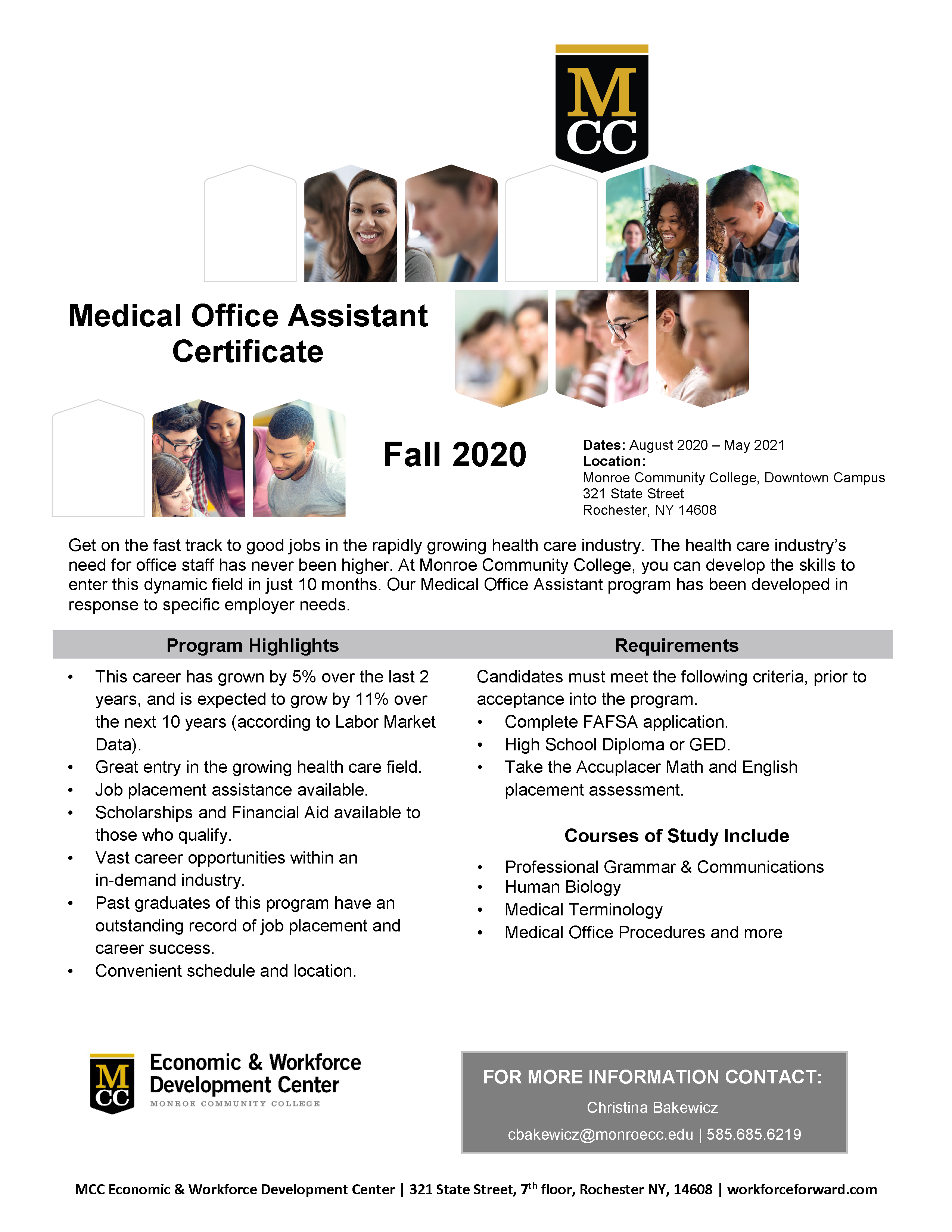 Medical Office Assistant Spring 2021.
Classes will run August 2021 – May 2022.
To download the program flyer, click here.
Contact Christina Bakewicz with questions cbakewicz@monroecc.edu.
MCC Programs
There's so much you can do with an MCC education. MCC offers many options, with more than 90 programs; full-time, part-time, and online studies. In short, whether you enroll in a degree program or just take a few classes, the credits you earn can transfer to a bachelor's degree or get you on the pathway to a new career, advancement in your current profession, or simply enrich your life. Below are just a few of MCC's options, click here for a complete listing.
Computer Information Systems A.A.S.
This program provides a basic understanding of computer skills and strategies for information processing and is designed for those who want to enter the field immediately. It emphasizes the practical application of computers for problem-solving. You will learn major software packages and basic programming.
Click here for program details.
Computer Systems Technology A.A.S.
This degree focuses on hardware components and applications and typically most appealing to those who enjoy "getting inside the box." You will study electronic circuits, logic and architecture and learn to program hardware, work with operating systems, and troubleshoot hardware and software failures.
Click here for program details.
Homeland Security Certificate
Homeland security continues to be a critical issue for local, county, state and federal government agencies as well as the private sector. This certificate will provide you with an overview of the primary areas of focus including law enforcement, emergency management, cyber security, public safety communications and corporate security. Graduates will be prepared for a fast-growing career in homeland security.
Click here for program details.
Business Administration A.S. (traditional or fully online option)
This program is right for you if you're planning to transfer to a four-year college to major in accounting, finance, management, marketing, human resources, economics, entrepreneurship, E-Business, international business, small business management, or other business-related fields.
Click here for program details.
Entrepreneurial and Applied Business Studies A.A.S.
This program will develop the skills and knowledge necessary to start your own business ventures, work in a family business, expand your present business, or work in a small business. You'll learn business, personal, analytical, and problem solving skills, plus basic knowledge of accounting, law, marketing, management, and customer service.
Click here for program details.
Heating, Ventilation, Air Conditioning A.A.S.
This program provides a well-rounded education in HVAC technology and a thorough understanding of the theory and applications for systems operation, including the math and physics that HVAC principles are based upon. Upon graduation, you will be qualified for careers such as field service technician, construction field estimator, service representative, systems detailer/designer, or sales representative. The program also provides a solid background for learners wanting to pursue a bachelor's degree in HVAC, as well as additional training for those who are currently employed and looking to advance.
Click here for program details.
Accelerated Precision Tooling Certificate Program
Learn the machining trade at Monroe Community College in 22 weeks. Upon successful completion of this 32 credit-based college program, candidates will receive a MCC Precision Tooling Certificate, along with job placement assistance from Rochester Technology and Manufacturing Association (RTMA). Scholarships may be available.
Click here for program details.
Precision Machining: Optical Fabrication Certificate
This certificate program will prepare you for employment in the precision machining industry with special emphasis on optical fabrication. Optical fabrication is the manufacturing of optical components used in lasers, fiber optics, and digital imaging. You will learn the principles and practices of precision metalworking and then apply these skills to the materials used in fiber optics, digital imaging, lasers, and other technological applications.
Click here for program details.
Solar Thermal Technology Certificate
If you're seeking an entry level position as a Solar Thermal Installer and Service Technician or you're currently employed in the HVAC field or related areas, then this is the program for you. You will gain essential information and training to install and work with solar thermal systems including: fundamentals of collecting and transferring solar heat; the National Electric, Plumbing, Mechanical, and Building Code; and the principles of a solar thermal system. This entry level certificate will prepare you to take the North American Board of Certified Energy Practitioners (NABCEP) Solar Thermal Entry Level Certification Exam.
Click here for program details.
Mechatronics Certificate
Combine many interests into one fascinating career. If you'd like a job where every day is different, this unique, interdisciplinary program—designed in partnership with industry leaders—is for you. This program combines the principles of electrical-mechanical and computer control used by highly-skilled maintenance technicians working in automated manufacturing. Through MCC's Mechatronics Certificate, you'll learn the most current processes and techniques, work on new, high-tech equipment, and participate on team projects that simulate industry scenarios. Given MCC's reputation for excellence in technical training, you'll graduate well prepared for success in today's manufacturing job market.
Click here for program details.
Medical Office Assistant Certificate
Get on the fast track to good jobs in the rapidly growing Health Care industry. The health care industry's need for office staff has never been higher. At Monroe Community College, you can develop the skills to enter this dynamic field in just one year. Our Medical Office Assistant program has been developed in response to specific employer needs. So you'll learn specialized health care record-keeping procedures and use the same state-of-the-art computer systems found in today's health care industry. Past graduates of this program have an outstanding record of job placement and career success.
Click here for program details.
Explore Careers
SkillsMatch:
SkillsMatch is a free, web-based tool for users to identify and fill their personal skills gaps and achieve their individual professional goals. SkillsMatch uses skills as a common language between people looking for work, work looking for people, and educational programs looking to connect people to the local labor market.
MCC Career coach:
MCC Career Coach is a free, web-based career exploration tool designed to help professionals of all levels of experience. The online tool provides access to current local data on wages, employment, job postings and relevant education and workforce training. As a user, you can easily research professional development and training opportunities and explore new careers.