Local Resources.
Global Reach.
MCC Corporate College has several facilities that host professional development and corporate training programs. Our Rochester-area resources include the Economic & Workforce Development Center, Applied Technologies Center, Public Safety Training Facility, and the Monroe Community College Brighton campus. MCC Corporate College also benefits from the training resources and global reach afforded by our membership to the Global Corporate College.
economic & workforce development center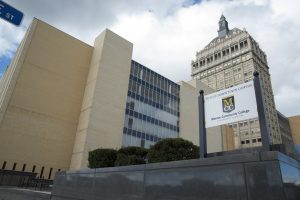 321 State St., 7th Floor
Rochester, NY 14608
585.685.6004
MCC Corporate College's Economic & Workforce Development Center features two training rooms and a boardroom. The facility's executive-style setting provides the ideal forum for corporate education and other training seminars. Located at MCC's new Downtown Campus, the center can be rented out for small and large training sessions at a reasonable rate.
Applied technologies center

2485 West Henrietta Road
Rochester, NY 14623
585.292.3700
The Applied Technologies Center is a 53,000-square-foot facility offering state-of-the-art equipment to advance technical education and industry-based training programs. The facility features a computer lab, multi-use classrooms, state-of-the-art machining and HVAC/R laboratories, and provides the tools for professional development and corporate success in today's technology-driven economy.
brighton campus

1000 East Henrietta Road
Rochester, NY 14623
585.292.2000
The MCC Brighton Campus is located on a 300-acre site just outside the city limits of Rochester, N.Y. The campus includes 16 academic, administrative and athletic buildings, the Alice Holloway Young Commons residence halls, and the Richard M. Guon Child Care Center.
public safety training facility

1190 Scottsville Road
Rochester, NY 14624
585.279.4100
The Public Safety Training Facility is a regional emergency training complex dedicated to training first responders. Equipped with specialized tools such as aircraft simulators, burn buildings, crime scene simulators, firing range simulators, TEAM/Tac simulators and other training props, the facility supports the professional development of police, fire and emergency medical personnel.